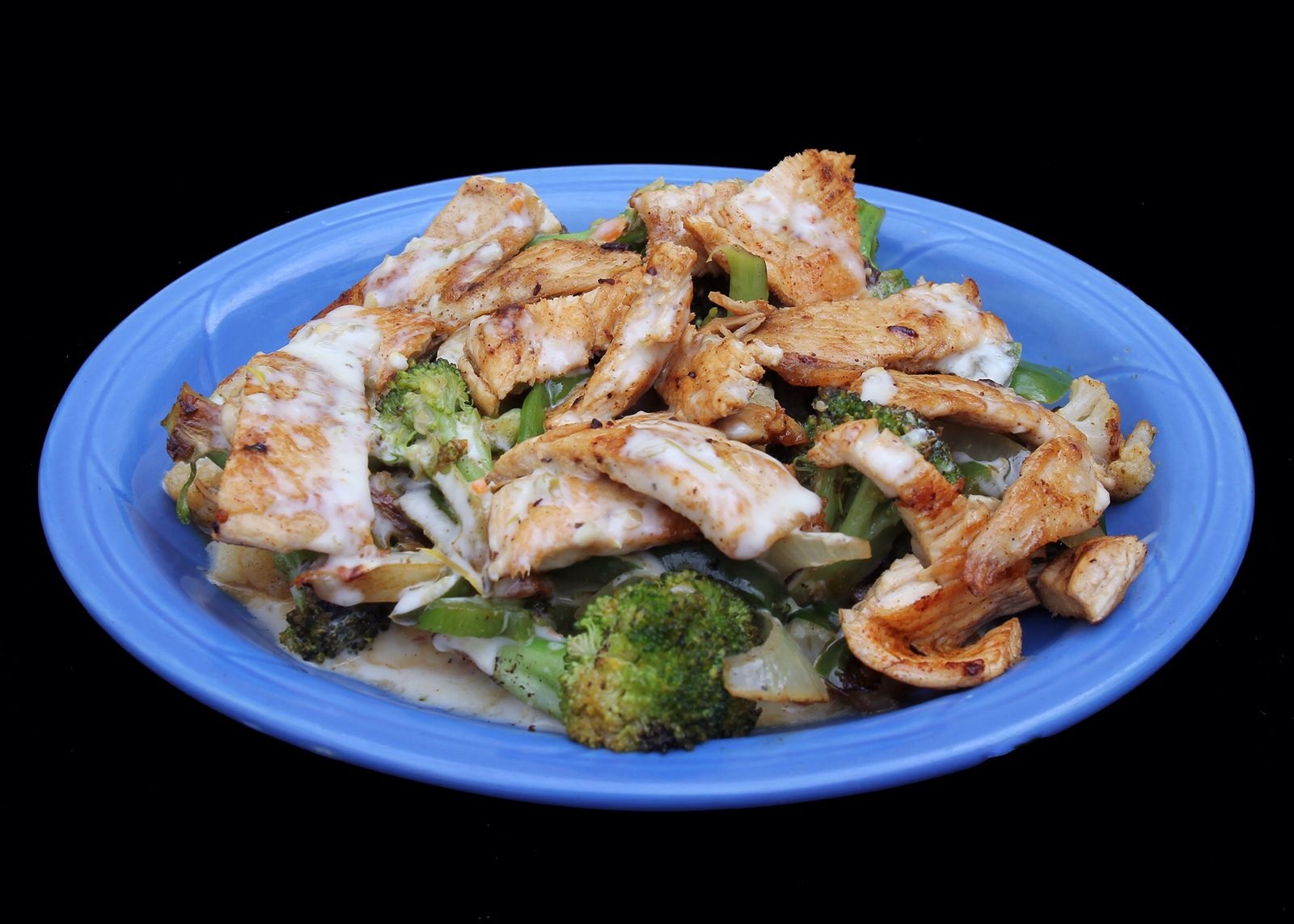 ● Chicken Fiesta: Grilled chicken on a bed of grilled brocolli, cauliflower, green peppers and onion smothered with our delicious jalapeño cheese sauce. 8.99
● Mexican Salad: Lettuce, avocado, tomato, green olives, bell peppers, onions and your choice of dressing. 5.75
● Mexican Caesar Chicken Salad: & grill broccoli. 7.49
● Vallarta Salad: Shrimp, lettuce, tomato, avocado, cucumber, grilled onion, mushrooms, and green olives. 10.49
● Cabo Salad: Shrimp,avocado, lime, celery, tomato, lettuce and bell peppers. 10.49
● Taco Salad: Crisp flour tortilla bowl filled with ground beef or Mexican chicken and cheese sauce topped with lettuce, shredded cheese, sour cream and tomato. 8.25
● Chiken Fajita Salad: Crispy flour tortilla bowl filled with grilled seasoned chicken and cheese sauce topped with lettuce, cheese, olives, and tomatoes. 9.49
● Chicken Soup: Chicken broth with shreded chicken, rice, onion, tomato and lime. 5.99
● Shrimp Soup: Shrimp, Mexican rice, avocado cubes and pico de gallo. 10.99
● Burrito BAJA: Wraped burrito filled with our marinated steak tips or marinade shredded Mexican chicken, spread refried beans, lettuce, guacamole, pico and anything you like for a price - and yes, you can hold it with your hands... after you washed of course. 7.25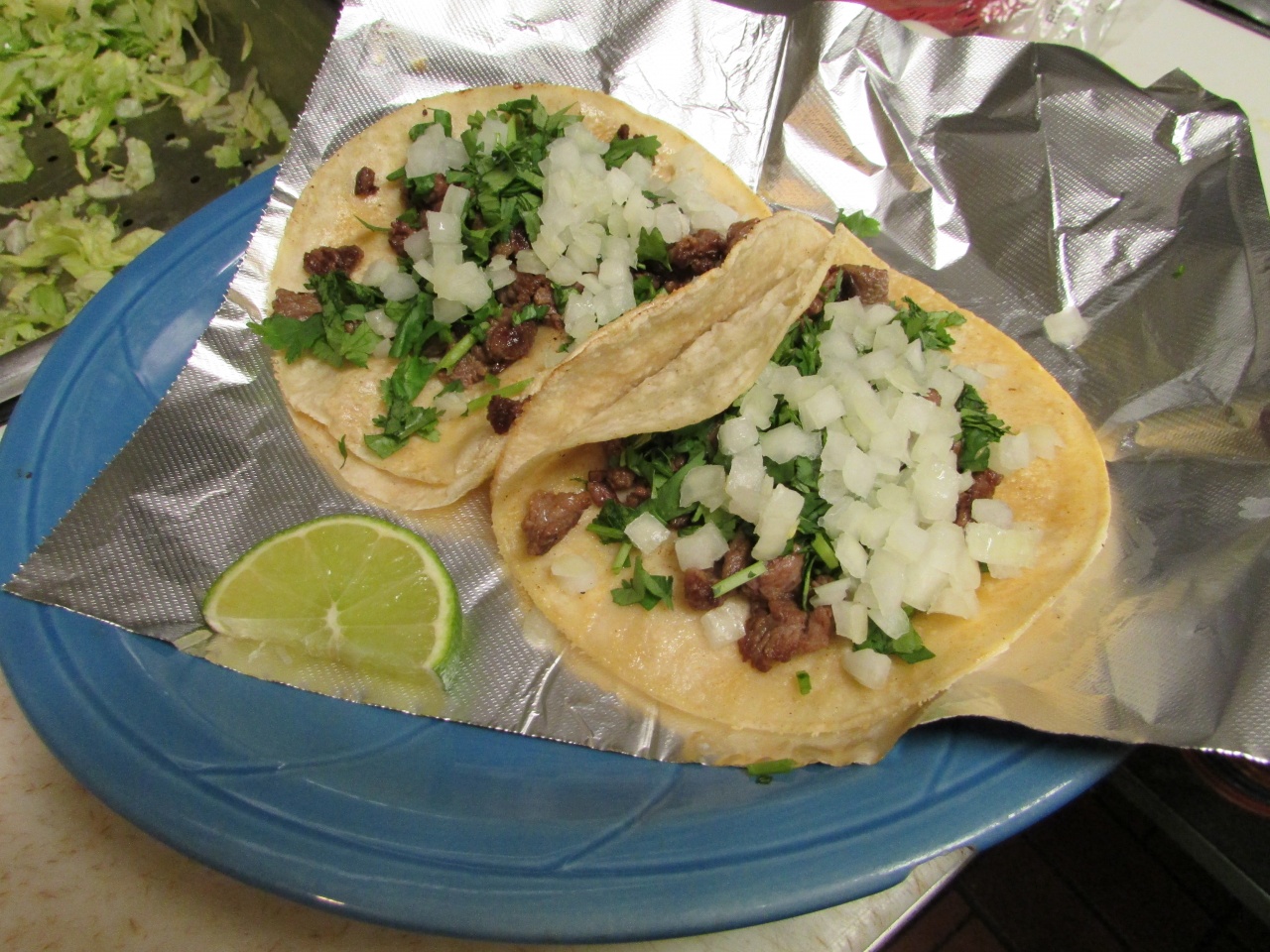 ● Order of Tacos (3 beef or chicken). 5.75
● Order Soft Tacos (3 beef or chicken). 6.99
● Tacos Gringos 3 Soft tacos w/ chicken & beef topped w/cheese dip, lettuce and pico de gallo.. 8.49
● Tacos Supreme 3 tacos, soft or hard topped with our shredded cheese, lettuce, dieced tomatoes & sour cream 8.49
● Tres Amigos Three bean and beef mix fried flour tacos with lettuce and cheese. 8.25
● Tacos de Pescado or Camaron Three delicious fish or Shrimp tacos with pico de gallo & lettuce served on a bed of Mexican rice and a lime.-
FISH - 9.95 SHRIMP - 11.75
Street tacos
Order of three soft tacos corn or flour tortilla served with onion and cilantro or pico de gallo and our tasty salsa de tomatillo and side of refried beans and Mexican rice.
● CARNE ASADA - 11.25
● CARNITAS (pork) - 11.25
● SI SEÑOR ("al pastor style") Pork chunks marinated in our especial sauce and pineapple chunks. - 11.75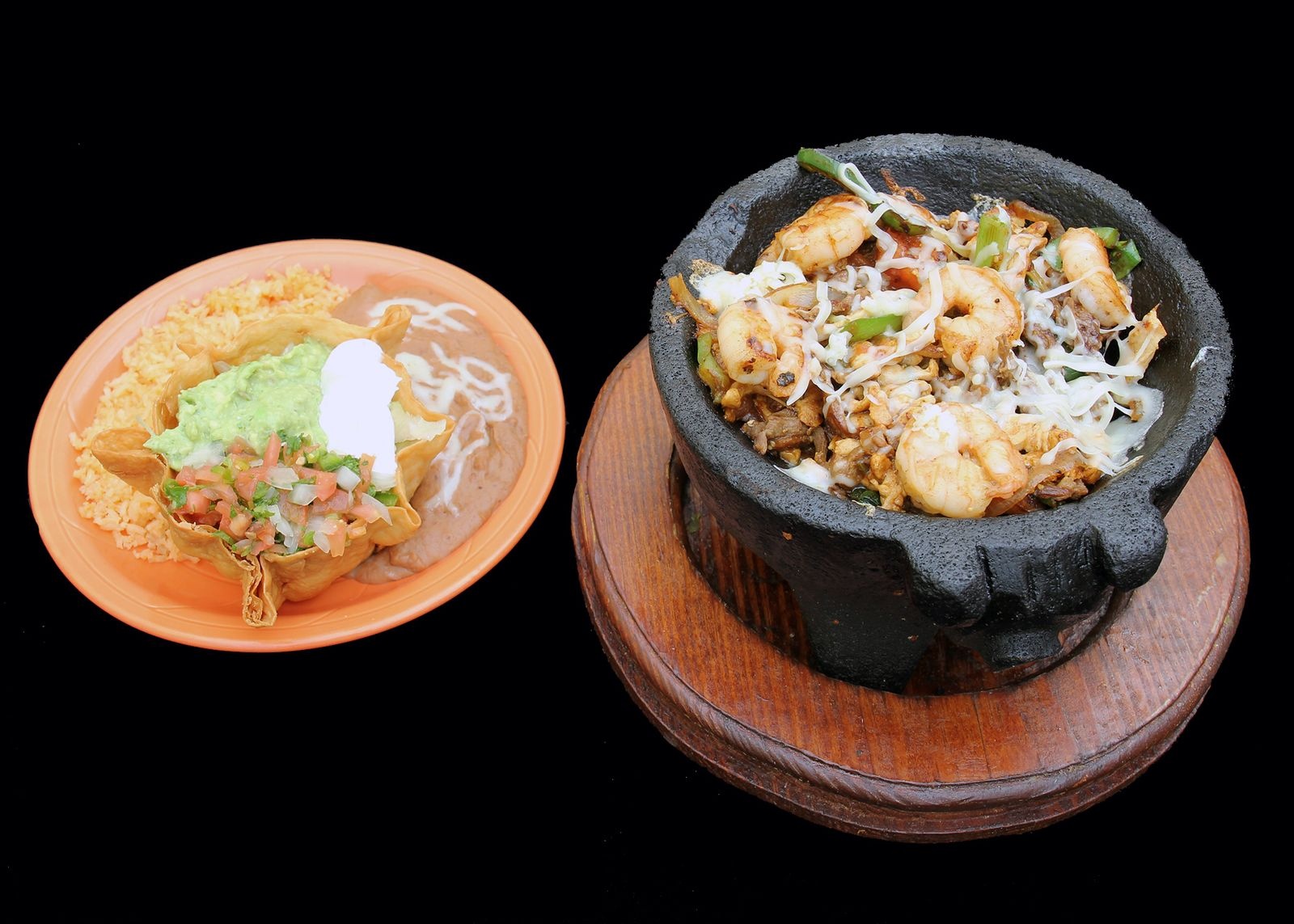 Chiles Rancheros
Two Poblano pepper stuffed with Chihuahua cheese and deep fried in egg batter, served w/rice & refried beans. 10.49
Hector's Poblano Burger
8oz our especial seasoned beef, pork and poblano pepper with our especial seasoned mayonnaise, lettuce, american cheese, Avocado, onions, jalapeños and tomato. & Fries. 10.25
Molcajete
Very hot volcanic rock bowl. Chorizo (Mexican sausage) steak, grilled chicken and shrimp, onions, tomatoes, bell pepper topped with shredded white American cheese, accompanied with side of mexican rice, refried beans, lettuce, guacamole, sour cream and pico. 18.95
Pezcado Empanizado
Crispy cat fish served with sour cream lettuce and tomatoe and your choice of fries or Mexican rice. 9.45
SI SEÑOR Camaron
Shrimp marinated in our special recipe, grilled to perfection, served on a bed of Mexican rice and mixed vegetables, and topped with cheese dip. 15.99
Camarones a la Diabla
Order of grilled shrimp marinated in a spicy sauce, served with rice, lettuce, sour cream, guacamole & your choice of corn or flour tortillas. 15.49
Shrimp cocktail
A unique SI SEÑOR style- pico de gallo,
cucumber & more. 11.25
All togo plates .25 cents extra charge
PARRILLADA for 2
Steak, grill chicken, shrimp, chorizo, fish filet, cook to perfection with green pepper, onion and tomato . Served on a hot comal with two side plates with refried beans, Mexican rice lettuce, sour cream, Pico and guacamole. 28.99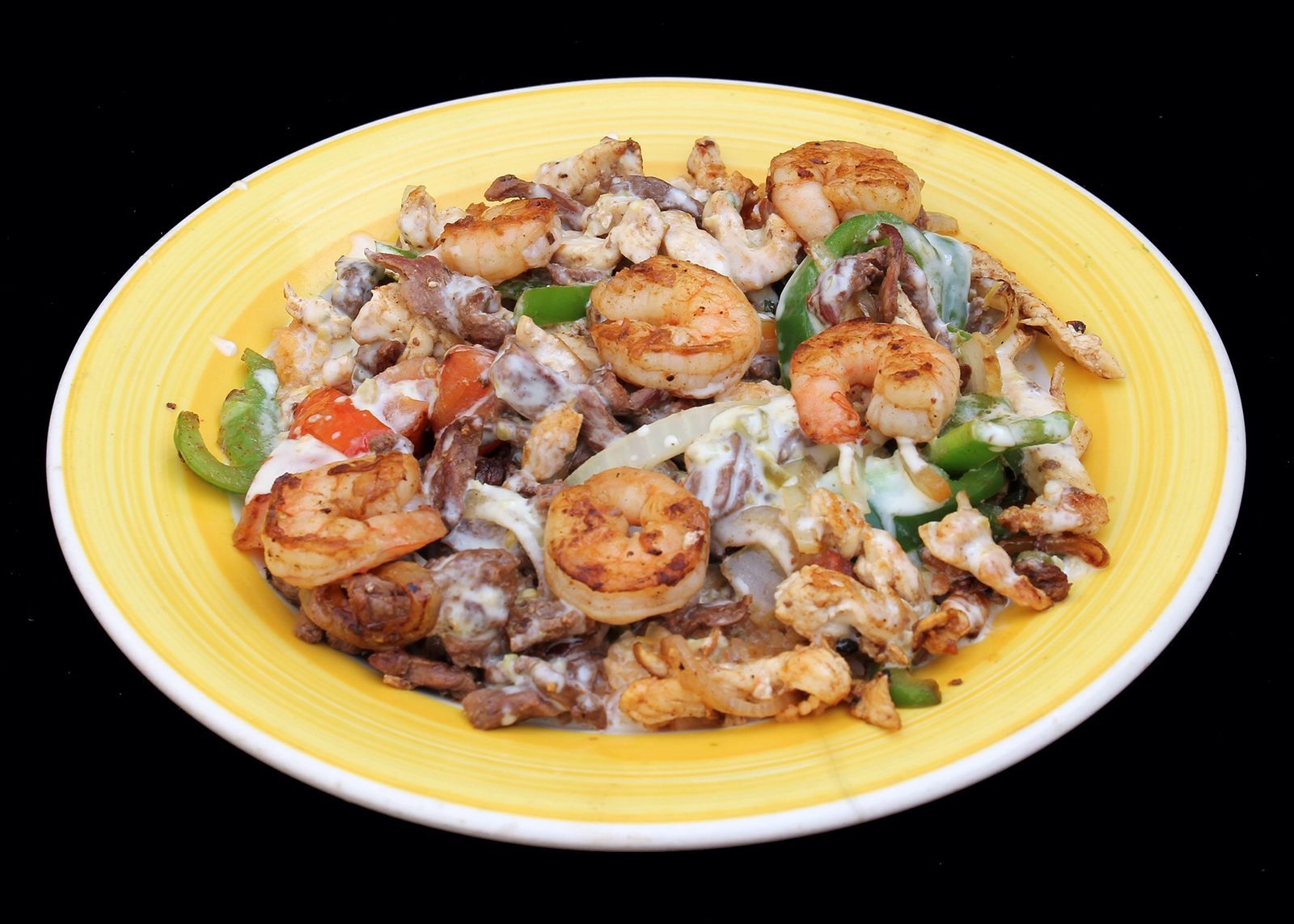 Pollo Fundido: Chicken breast topped with delicious melted cheese sauce served with rice and beans. 10.49
Choripollo: Chicken breast topped with chorizo and cheese sauce served with rice and beans. 11.49
Comadre: Grilled chicken breast topped with potatoes, bacon slice of poblano pepper. Seasoned with chopped garlic and accompanied with cheesy rice, lettuce and sour cream. 11.99
Jallsco Special: Steak, chicken, and shrimp with onion, tomato, green peppers and a bed of rice and cheese sauce with or without jalapeños and flour or corn tortillas. 12.99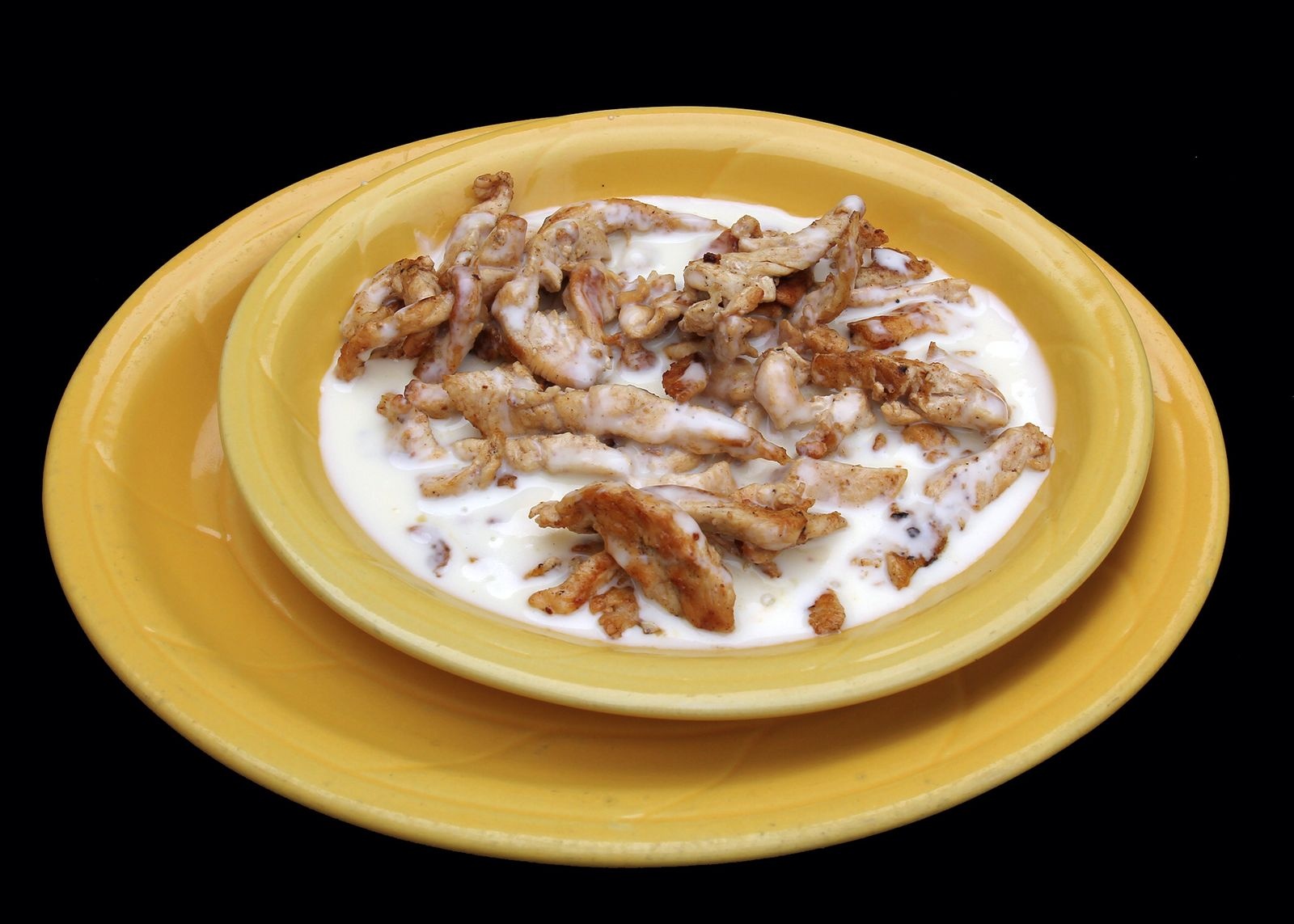 Heartland Special: Chicken & cheese, w/ or w/out jalapeño cheese, corn or flour tortillas. 7.99
Guadalajara Special: One tamal, two flautas, four nachos with cheese, Mexican chicken, beef and beans topped with lettuce, guacamole and sour cream. 9.75
Chilaquiles Mexicanos: Corn tortilla strips topped with Mexican chicken, cooked with tomato sauce, served with rice, lettuce and sour cream. 9.25
Burrito Mexicano: A flour tortilla stuffed with chopped beef tips, cooked with tomatoes, onions, topped w/melted cheese, lettuce, pico & sour cream. 8.25
Burrito Special: One beef or Mexican chicken burrito smothered in red tomato sauce with melted shreded cheese, lettuce tomato and sour cream. 7.25
Burritos Deluxe: Order of two burritos combined- 1 Mexican chicken & beans and 1 beef & beans, smothered in red tomato sauce topped with lettuce, tomato, and sour cream. 9.95
Chicken Burrito Enchilada: One Mexican chicken burrito and one Mexican chicken enchilada smoother in red tomato sauce topped with lettuce and sour cream. 9.49
La Changa: Refried beans and chunks of beef tips or Mexican chicken wrapped in a flour tortilla, topped with cheese sauce and garnished with guacamole salad and sour cream. 8.25
Chimichanga Dinner: We fill a flour tortilla with your choice from the list below, spread beans; then it is deep fried to a golden brown and topped with jalapeño cheese sauce, side of lettuce, sour cream and pico de gallo. Served with Mexican rice and refried beans.
Chimichanga Ground Beef - 10.75
Chimichanga Chunks of Steak - 11.25
Chimichanga Mexican Chicken- 11.25
Chimichanga Fajita Chicken or Steak- 13.25
Chimichanga Fajita Shrimp- 13.99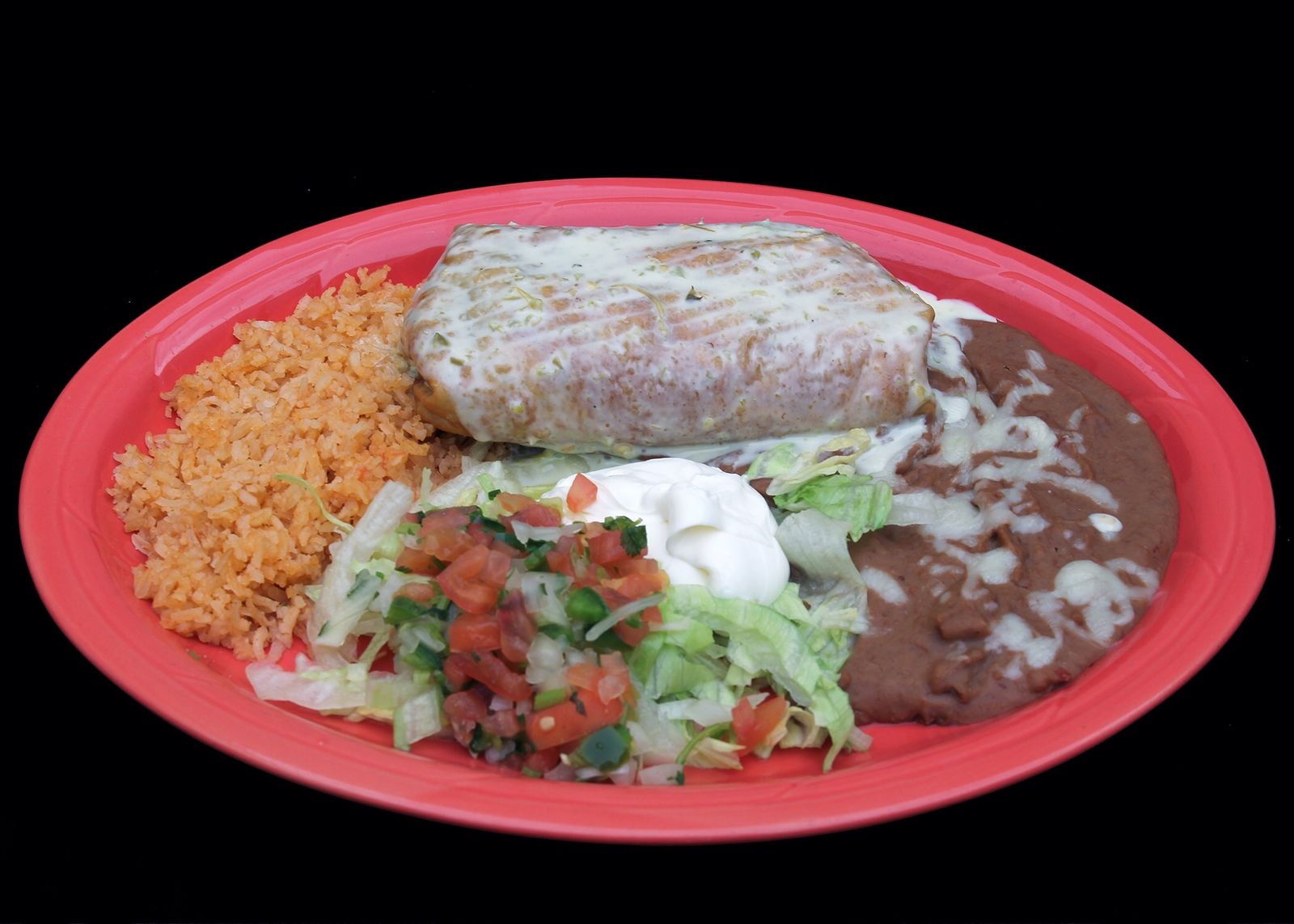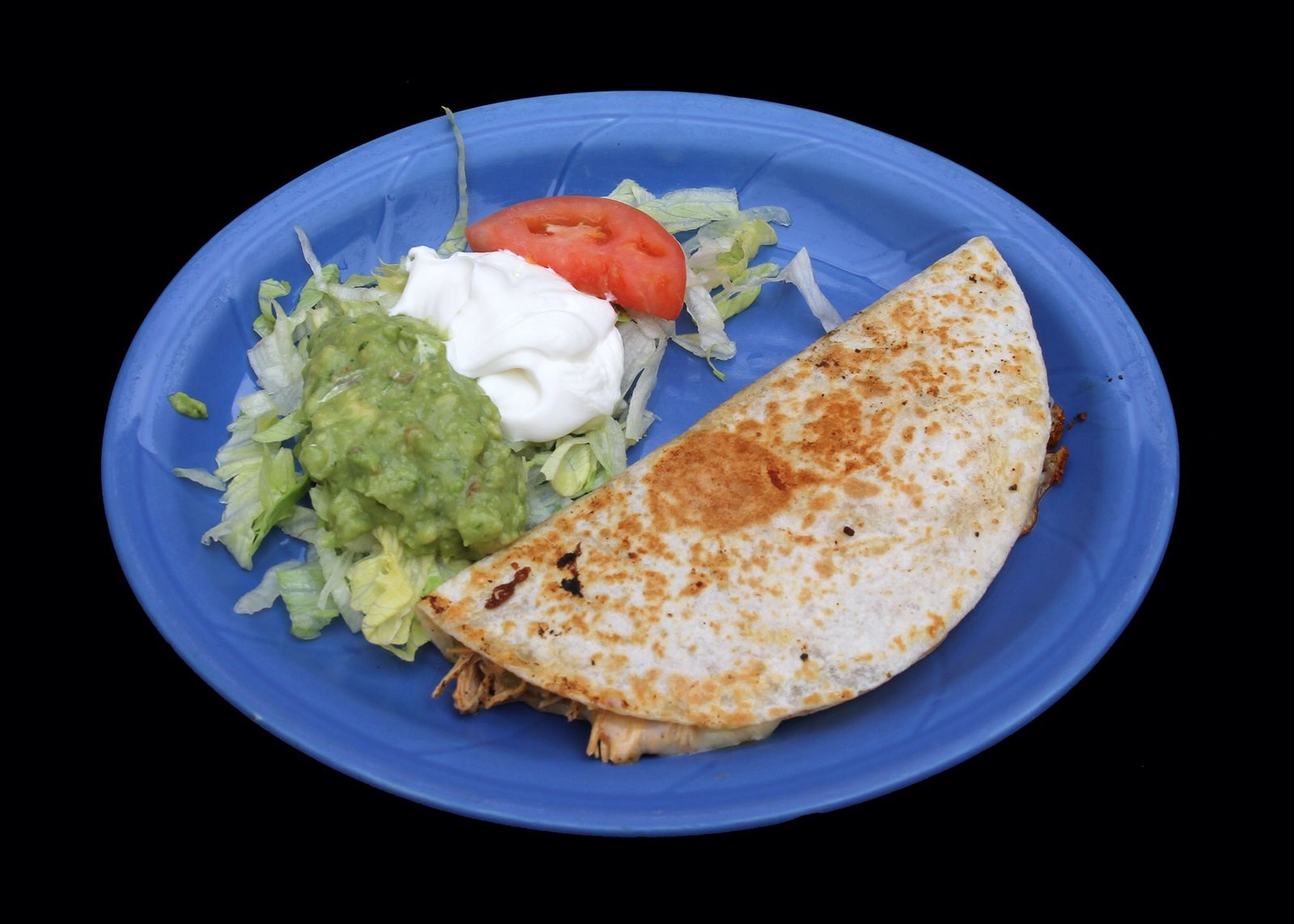 Super Fajitas Quesadilla: Hungry....? Oversized quesadilla stuffed with grilled chicken or beef with sauteed vegetables, & cheese, served with lettuce guacamole & sour cream. 10.25
Shrimp Quesadilla: Folded grilled flour tortilla stuffed w/tasty shrimp & melted cheese served w/lettuce, tomatoes, sour cream, & guacamole. 9.98
Quesadilla Rellena: A folded flour tortilla stuffed with cheese, Mexican chicken or chopped beef tips and refried beans. Served with lettuce, guacamole and sour cream. 8.25
Mexican Fajita Pizza: 6" round pizza dough w/our mouth watering cheese, topped with steak or chicken fajitas, green peppers, onions, tomatoes, green onions & spices. 9.99
Flautas: Rolled: fried corn tortillas stuffed with beef or Mexican chicken and served with guacamole salad, tomato, & sour cream. 8.99
Yolandas: Three Mexican chicken enchiladas covered with cheese and salsa ranchera with side of Mexican rice and guacamole-salad. 9.95

Enchilada Supreme: Supreme combination consisting of 1 Mexican chicken enchilada, 1 bean enchilada, 1 cheese enchilada, and 1 beef enchilada, topped with ranchero sauce, lettuce, tomato, and sour cream. 10.49
Enchilada Rancheras: Two cheese enchilada topped with chopped beef, cooked with tomatoes and onions, served with lettuce
and guacamole 7.99
Enchilada del Barrio: Three beef tips enchiladas topped with our special sauce and parmesan cheese served with lettuce pico de gallo & sour cream. 9.25
Veggie Burrito:
A flour tortilla w/ nacho cheese, spread of beans and sauteed vegetables. 8.25
Veggie Quesadilla #1: (Super)
A flour tortilla filled with beans, cheese, and sauteed grilled vegetables. 9.95
Veggie Quesadilla #2:
Two flour tortillas grilled to golden perfection in ranchero sauce stuffed with cheese, broccoli, tomatoes, bell peppers and onions. 9.95
Vegetarian Chimichanga:
A flour crispy tortilla filled with spread of beans, cheese and sauteed vegetables deep fried to a golden brown and topped with cheese sauce, lettuce, sour cream, and pico de gallo. Served with Mexican rice and beans.- 11.25
MEXICAN CHILES (CHILIS) AND MOLE
Traditional salsas made using especial spices, dry and fresh peppers as well as fresh or dry tomatoes or tomatillos served with mexican rice, refried beans and flour or corn tortillas your choise of sauce and your favor meat. 11.45
SAUCE MEAT
CHILE VERDE CHUNKS OF PORK
CHILE CON CARNE STEAK
CHILE COLORADO GRILL CHICKEN
MOLE SHREDED CHICKEN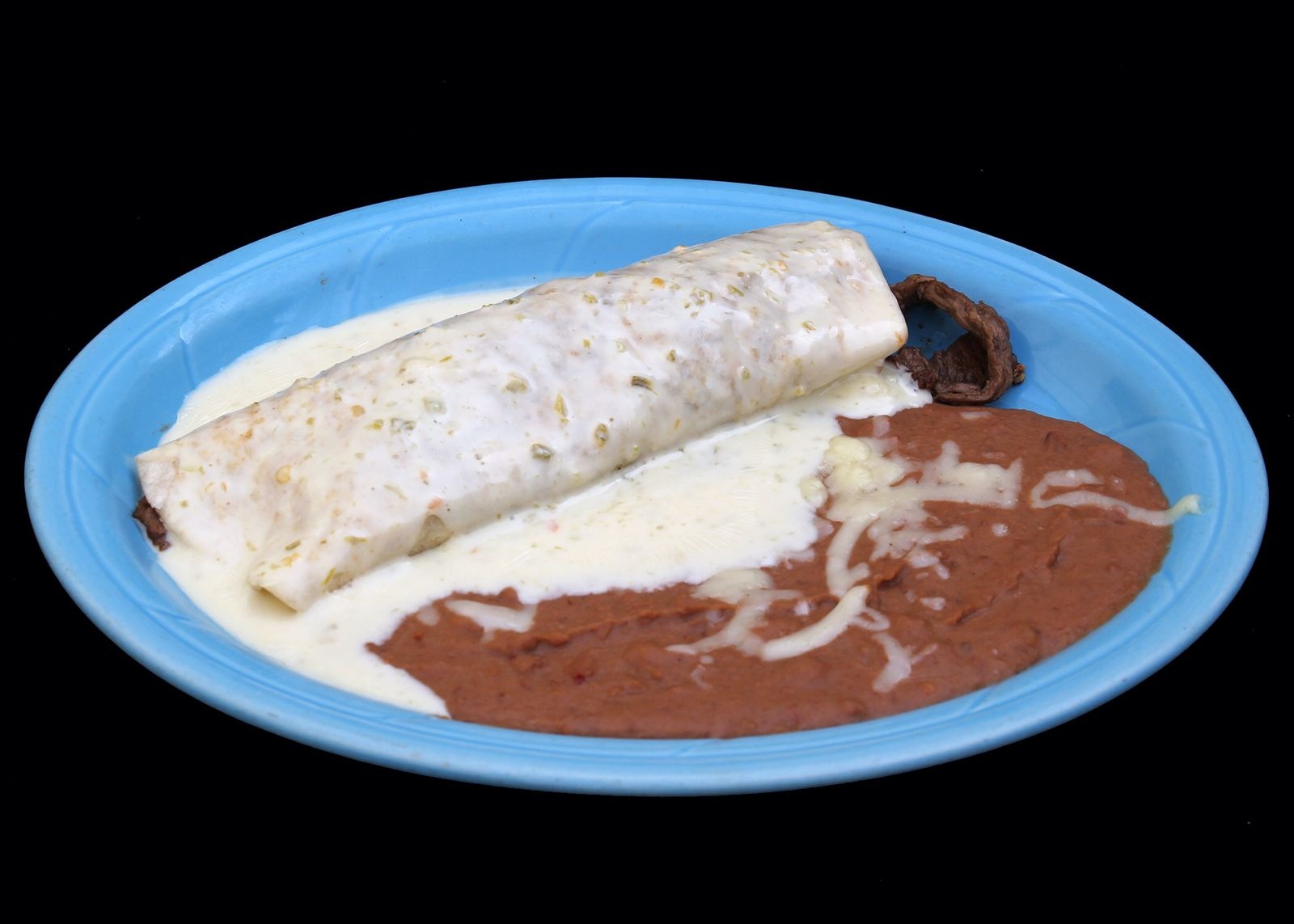 CARNITAS DINNER: Pork chunks slow cooked on our special recipy served topped with griilled oniosn and sides of Mexican rice, refried beans and tortillas. 11.45
Burritos or Enchiladas Verdes: Order of two burritos or three Enchiladas stuffed with chopped beef tips, topped with our Home made green sauce and served with Mexican rice and refried beans. 10.25
Burrito SI SEÑOR: A flour tortilla stuffed with pork and cooked with tomatoes, onions, bell peppers and topped with green, red, & cheese sauce. 9.25
Burrito San Jose: A flour tortilla with spread beans gilled onions and grilled steak or chicken, side pico de gallo, guacamole and sour cream. 8.75
Burrito Al Carbon Steak: Sirloin Burrito topped with cheese sauce & side of Mexican rice or refried beans. 9.95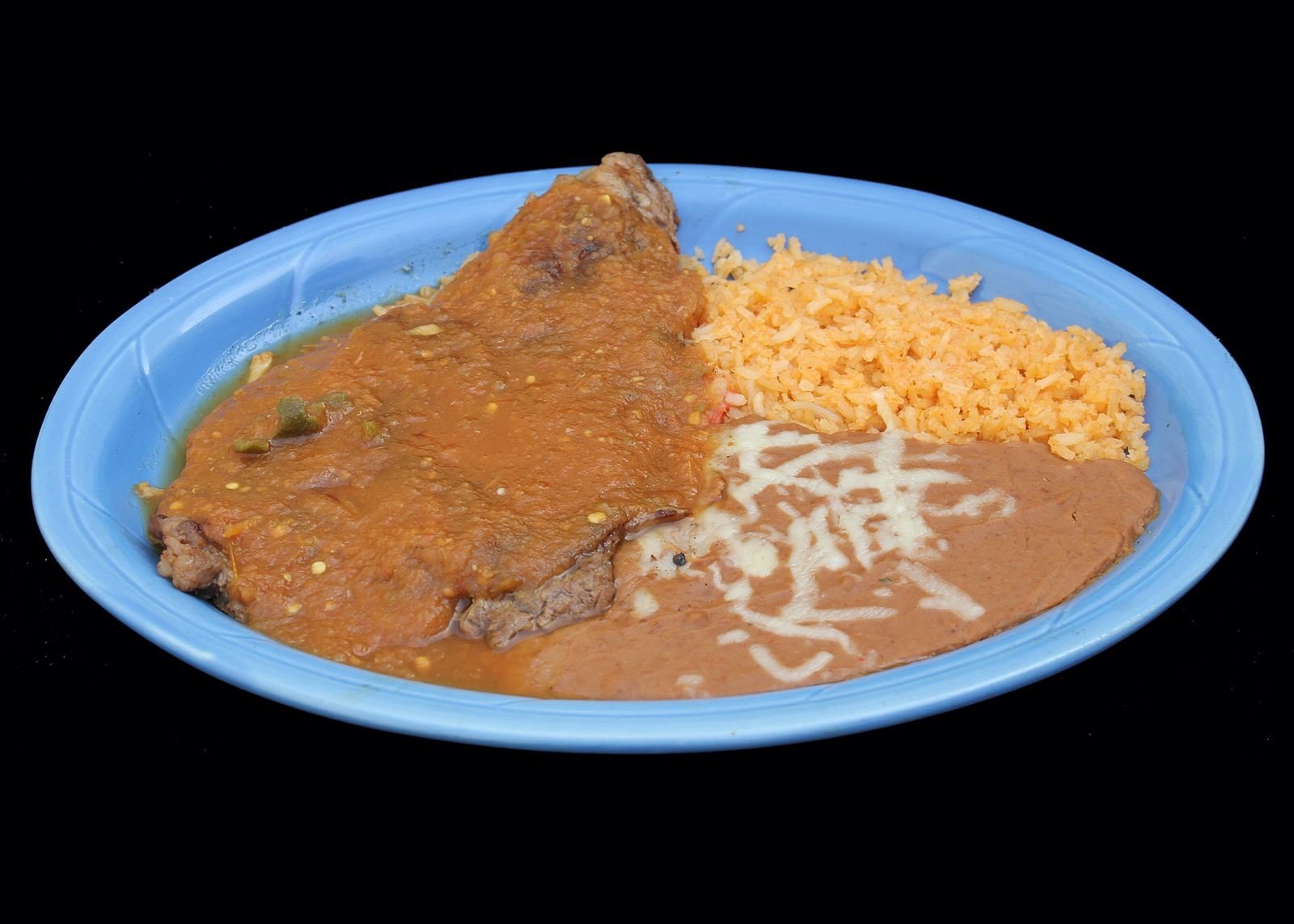 Our traditional BISTESES (STEAKS) its been one important dishes of de cocina Mexicana. A 8oz rib eye, all ways cooked to perfection Mexican style well done accompanied with refried beans, our delicious Mexican rice and tortillas
*Steak Mexicano: Topped with onions, tomatoes, and bell peppers
*Steak Ranchero: with our special ranchero sauce
*Tampiqueña: Steak: Topped with onion and a cheese enchilada.
*Carne Asada: slices of rib-eye steak grilled with onions, and guacamole salad
12.49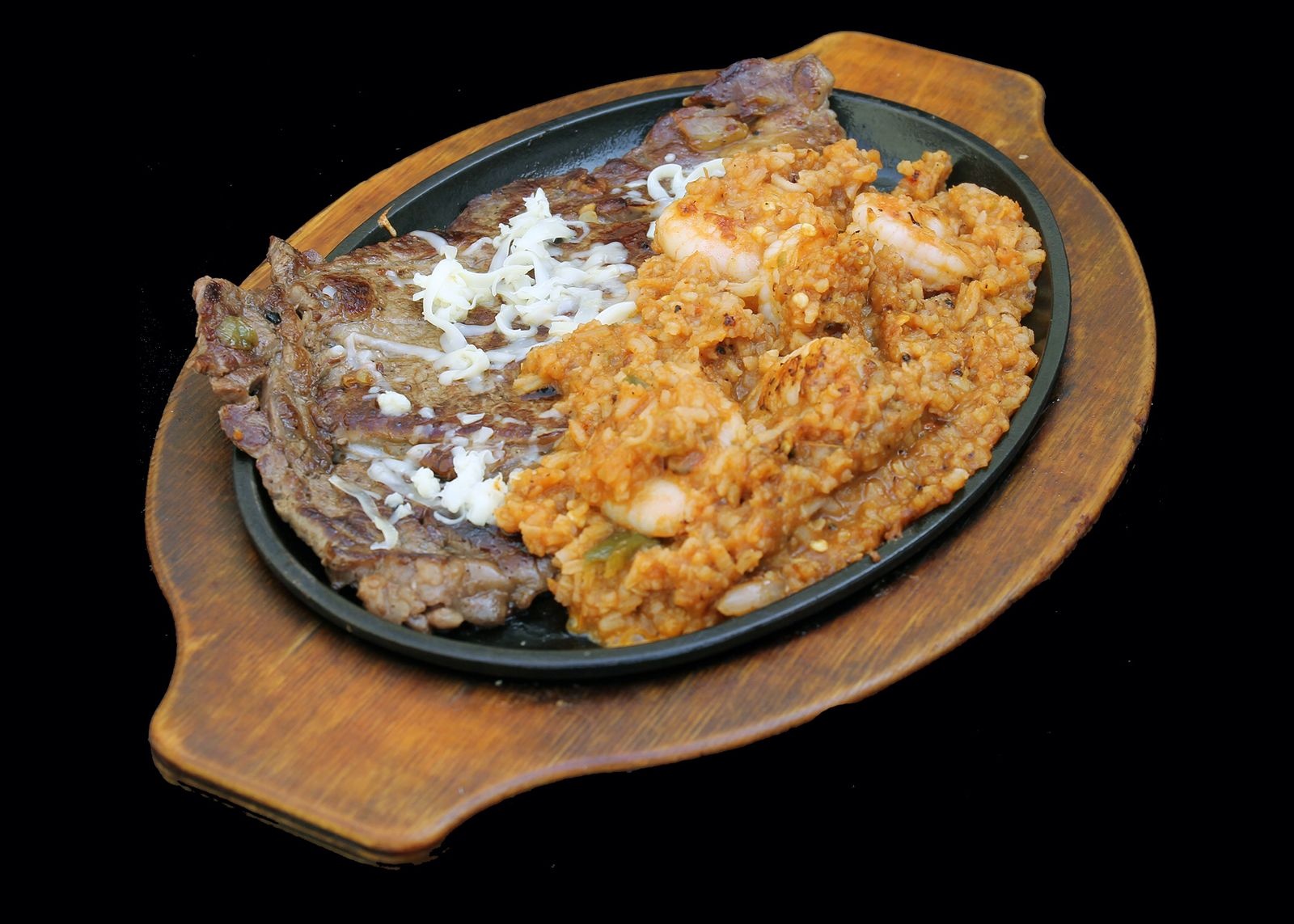 *COMPADRE: Rib-eye Steak topped with Shredded Cheese served with a side of Shrimp cooked with Rice - 14.99
*SI SEÑOR CHEESE STEAK Fajita Steak strips Cooked With Onion Served on Two Flour Tortillas Served With A Side Of Beans And Pico de gallo - 11.25
All fajitas dinner are served with Mexican rice, beans, lettuce, guacamole, sour cream, pico de gallo, so you can create your own tacos.
All fajitas are cooked with tomatoes, green onions, onions, bell peppers, and are served on a sizzling comal.
● Steak or Chicken Fajitas (Strips of beef or chicken). 12.99
● Mixed Fajitas (Both steak and chicken). 13.49
● Fajitas SI SEÑOR (A combination of steak, chicken, & shrimp). 15.25
● Shrimp Fajitas. 15.99
● Shrimp & Chicken Fajitas. 15.25
● Veggie Fajitas-includes marinated vegetables. 12.99
● Pork Fajitas. 12.99
● Hawaiian Fajitas (pork and pineapple). 13.99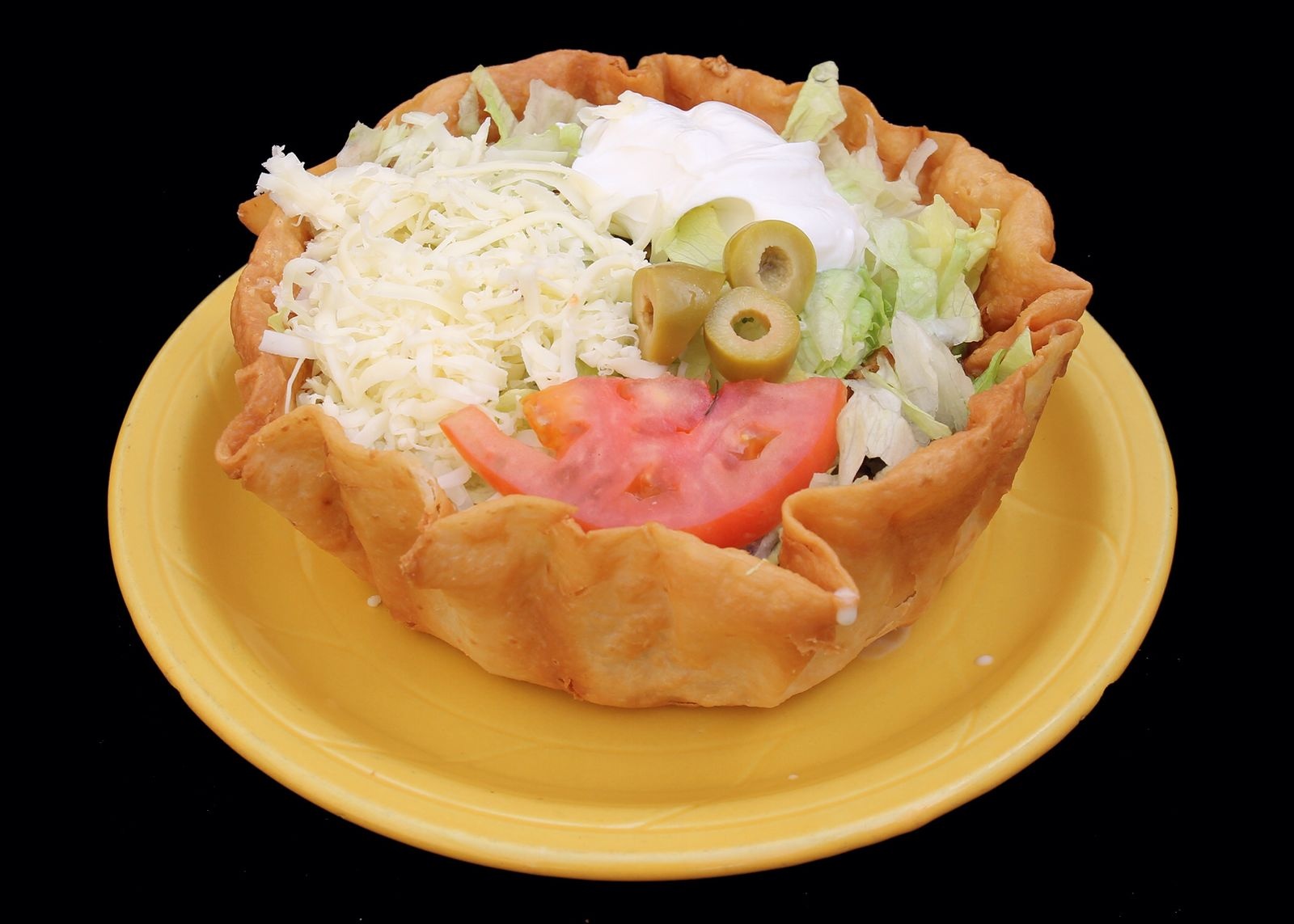 Monday to Friday
11:am til 3:pm
2.00 OFF before 3:pm
Ask for our today's Specials
● Speedy Gonzalez: Beef enchilada, beef taco, choice rice or beans. 7.99
● FIVE MINUTE LUNCH Order any three of the following items and they will be ready in five minutes: beefTaco, beef Burrito, beef Enchilada, Mexican rice or Refried beans. 7.99
● Huevos Rancheros: Two eggs over a corn tortilla, covered with Ranchero sauce, served with rice, beans & flour or corn tortillas. 8.99
● Taco Salad: Crispy flour tortilla bowl filled with Mexican chicken breast or ground beef, lettuce, cheese, sour cream & tomato. 8.25
● #6 Numero Seis: Bean Quesadilla stuffed with beef tips or Mexican chicken served with lettuce, sour cream, guacamole, and tomato. 8.25
● #7 Numero Siete: Beef or chicken Fajita served with rice,beans and flour or corn tortillas. 10.49
● #9 Numero Nueve: Chimi changa Chunks of Beef or Mexican chicken served with lettuce and sour cream your choice of rice or beans. 8.99
● Arroz con Pollo: Our delicious shredded chicken cook with bell pepper, onion and Mexican rice marinade with ranchero sauce served with guacamole salad. 8.99
● Chili Changa: Bean chimichanga topped with chili and side of lettuce and sour cream. 7.25
DINNER MENU AVAILABLE AT LUNCH TIME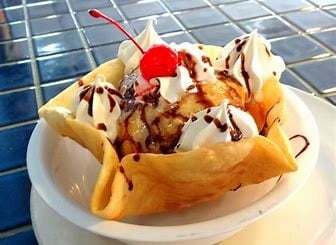 Flan: Mexican custard - 3.25
Fudge Lava Divine: Fudge cake topped with ice cream & chocolate- 5.25
ChimiCheeseCake: Ice cream Chocolate & Strawberry syrup - 5.25
Sopapillas: Fried flour tortilla with honey butter and cinnamon - 2.99
Fried Ice Cream: Served with a crust, strawberry, whip cream & chocolate - 5,25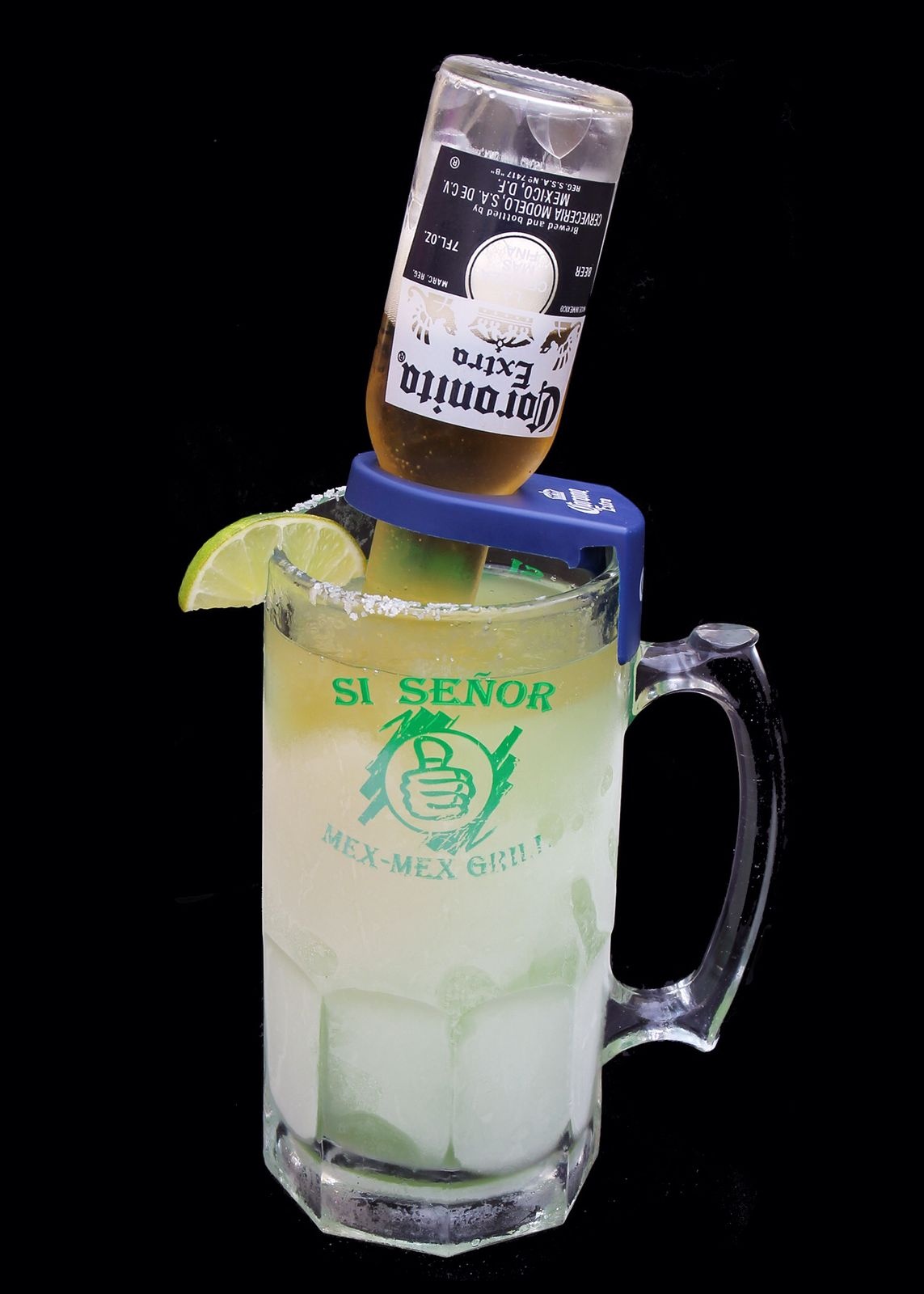 Ask for oour great selection on MARGARITAS AND IMPORTED AND DOMESTIC BOTTLE AND DRAFT BEERS